Sewa Peralatan dan Asesoris Video – Seiring berkembangnya jaman jenis-jenis peralatan dan aksesoris video semakin berkembang pesat, yang awalnya hanya peralatan atau aksesoris video manual kemudian berkembang menjadi peralatan dan asesoris video elektrik. Kebutuhan para pengguna yang semakin bertambah pula yang menyebabkan para produsen berinovasi dengan produk produknya.
Pada artikel kali ini kita akan review spesifikasi peralatan dan asesoris video yang berfungsi sebagai stabilizer. ada 3 jenis stabilizer yang akan kita bahas pada artikel ini, yaitu Glidecam, Beholder dan DJI Ronin.
Berikut adalah Review dan Spesifikasinya :
Glidecam HD-4000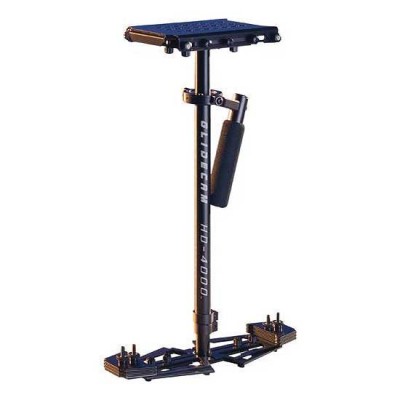 Glidecam HD-4000 Stabilizer System begitu ringan dan dilengkapi hand-held camcorder stabilizing system. Sistem telah ditingkatkandari 4000 Pro dan menawarkan adjustments dan gimbal yang ditingkatkan dan juga sistem keseimbangannya. Cocok untuk anda yang inginkan menghasilkan gambar dan video yang halus dan presisi.
Glidecam HD-4000 Stabilizer System dengan sistem stabilisasnya akan bekerja untuk memberikan stabilitas pada kamera ketika ada gerakan untuk pengambilan gambar yang dinamis dan subjektif. Dengan menggunakan sistem balancing yang menghambat gerakan tubuh pengguna, serta menghasilkan floating moving image yang halus anda cukup menggunakan Stabilizer untuk menghasilkan video terbaik anda.
Stabilizer ini begitu compact karena terbuat dari bahan alumunium berkualitas tinggi yang menjadikannya begitu ringan dan memiliki kapasitas beban hingga 4.5 kg, cocok untuk kamera anda.
Fitur Glidecam HD-4000
Cocok untuk kamera dengan beban hingga 4.5kg
Bahan: Alumunium
Spesifikasi Glidecam HD-4000

Construction
Aluminum
Load Capacity
4.0-10.0 lbs (1.8-4.5kg)
Vest
Optional Body-Pod
Arm
Optional Forearm Support Brace
Head Assembly/Top Stage
Adjustable
X,Y Head Dimensions: 8.750 x 5.00 x 1.00″
Quick Release
Yes and Camera Plate has 1/4-20 and 3/8″ Mounting
Docking Bracket
No
Dovetail Plate
Base Platform
13.75 x 4.75″-18.25 x 4.75″
Gimbal
Free floating, precision Gimbal
Dynamic Spin
360-degree panning and tilting
Post
Telescoping
Central Support Post: 1.00″ diameter
20 to 28″
Monitor
No (optional monitor could be mounted on Base)
Battery
No
Battery Mount
No
Weight
3.3 lbs (1.5kg)
Glidecam HD-2000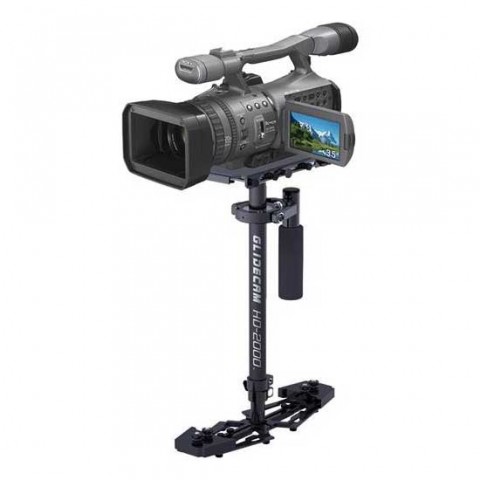 HD-2000 dari Glidecam merupakan Stabilizer Kamera yang sangat handal, begitu ringan dan memiliki sistem handheld stabilisasi yang sudah ditingkatkan dari seri sebelumnya yaitu 2000 Pro. Selain itu, stabilizer kamera ini juga menawarkan gimbal dan sistem balance yang sudah di tingkatkan jadi anda mesti mencoba dan melihat hasilnya, pasti anda dapat menghasilkan rekaman video yang luar biasa halus dan presisi dengan stabilizer HD-2000 ini.
Lalu, untuk anda yang masih awam di dunia stabilizer. Apa sih Fungsi stabilizer itu? yaitu menghasilkan gambar atau video yang halus dan presisi, dengan cara kerja meredam goyangan saat pengambilan gambar yang memungkinkan kamera untuk bergerak bebas tanpa menghasilkan gambar yang shaking.
Stabilizer kamera Glidecam HD-2000 sangat populer dikalangan pengguna stabilizer dengan berat hanya 1.1kg (tanpa Counter Weight Plates) dan terbuat dari bahan alumunium yang membuatnya begitu compact dan ringan, menjadikannya mudah untuk digunakan dan selain itu, stabilizer ini mampu memuat beban kamera hingga 0.9-2.7 kg.
Spesifikasi Stabilizer Kamera Glidecam HD-2000

Desain Compact, cocok untuk kamera DSLR dan Camcorder dengan beban 0.9-2.7 kg.
Material : alumunium
X,Y Head Dimensions: 7.5″ x 4.125″ x 1"
Base Platform Dimensions: Pendek – 11.5" x 4" Panjang – 15" x 4"
Central Support Post: 1″ diameter
Tinggi Minimal 38,1 cm
Tinggi Maksimal 55,8 cm
Berat 1.1kg (tanpa Counter Weight Plates)
12 Counter Weight Plates = 3.264 pounds
Camera Mounting Plate menggunakan ukuran ulir 1/4″
 Isi Dalam Paket
Glidecam HD2000
Camera Mounting Plate
Mid Plate
Bottom Plate
Central Post
Three Axis Gimbal with Yoke And Offset Handle
Telescoping Post
Base Platform
12 Steel Counter Balance Weight Disks
---
---
IKAN BeHolder DS-1 3 Axis Camera Stabilizer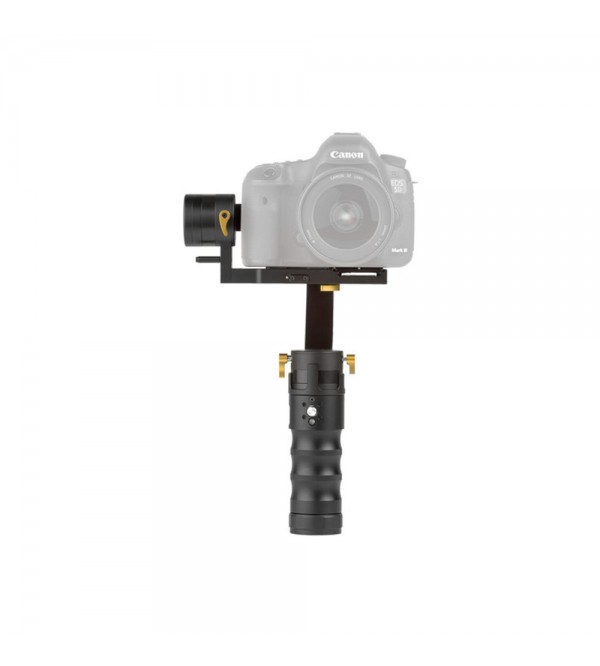 PRODUCT HIGHLIGHTS
3-Axis Motorized Gimbal
Supports DSLRs Up to 3.7 Pounds
Quick Release Baseplate
Tool-Less Balance Adjustments
Two Stabilizing Modes
Motorized Pan and Tilt Adjustment
Use Normal, Inverted, or Briefcase
Integrated USB Port for Power
3/8″-16 Threaded Mounting Hole
Lightweight for its size yet designed to support DSLR cameras, the Ikan DS1 Beholder Gimbal for Select DSLR and Mirrorless Cameras is a 3-axis gyro stabilizer with brushless motors. It supports cameras such as Sony A7, GH4, G7 Series, Canon 5D, 6D, 7D, GX7, NEX Series, and DMC Series cameras. It features a quick release baseplate that makes it simple and easy to swap out the camera. Additionally, the baseplate can be adjusted, without tools, for precise balance. This can be especially useful when changing lenses.
The DS1 features four selectable stabilizing modes: follow, lock, inverted, and briefcase. Beyond just stabilizing, the DS1 allows you to adjust pan and tilt via a small joystick incorporated into the handgrip. It incorporates a USB port, which you can use to power a smal LED light, or charge your smartphone. The handle houses the three 2600mAh batteries, which can typically power the DS1 for approximately 2 to 3 hours.
For smooth camera moves with most mirrorless and DSLR cameras.
Equipped with 3-axis gyro-stabilized brushless motors to stabilize most mirrorless and DSLR cameras up to 3.7 pounds.
The quick release plate acts as a sliding balance plate and allows you to quickly adjust the rig when you change lenses on the camera.
Each axis features two adjustment locking levers that allow you to pre-adjust the position or balance your camera on the gimbal before turning it on.
Modes
Follow Mode stabilizes the camera and allows it to follow your movements as you pan and tilt.
Lock Mode stabilizes the camera and holds in position even if you pan, tilt, or try to dutch-angle (off level the camera), until you reach the physical limit of the motor.
You can hold and use the DS1 in normal, inverted, or briefcase mode. This allow you to get a wide variety of shots in a many different situations using one stabilizer.
Illuminated on/off switch and battery indicator.
3/8″-16 tripod mount socket.
AC Adapter with integrated Micro USB cable for charging.
---
---
DJI RONIN

GENERAL
Built-In Functions

Three Operation Modes
· Underslung Mode
· Upright Mode
· Briefcase Mode
Built-in independent IMU module
DJI Specialized Gimbal Drive Motors with Encoders
Bluetooth Module
USB Connection
2.4GHz Receiver
Temperature Sensor
DJI Advanced 32-Bit DSP Processor
D-Bus Receiver Supported
MECHANICAL & ELECTRICAL CHARACTERISTICS
Working Current
Static current: 300mA (@16V)
Dynamic current: 600mA (@16V)
Locked motor current: Max 10A (@16V)
Run Time
6 hours
Operating Temperature
5°F ~ 120°F (-15°C ~ 50°C)
Weight
4.20kg (9.26lbs) fully loaded with handlebar
Gimbal Dimensions
620mm(W) x 280-380mm (D)x 500mm(H)
PERIPHERAL
Camera Tray Dimensions
Maximum depth at center of mass on camera base plate: 140mm
Maximum height measured from top of camera base plate: 225mm
Maximum width: 195mm
Accessory Power Connections
12V regulated P-Tap x 2, USB 500mW x 1, DJI Lightbridge x 1
GCU Input Power
4S Ronin Battery
Connections
2.4GHz Remote Control, Bluetooth, USB 2.0
PC Assistant Software Requirements
Windows XP SP3; Windows 7; Windows 8 (32 or 64 bit);Mac OS X 10.9 or above
Mobile Assistant Software Requirements
iOS version 6.1 or above Mobile Device iPhone 4s, iPhone 5, iPhone 5s, iPod touch 5 , iPad 3, iPad 4, iPad mini
WORKING PERFORMANCE
Load Weight (Reference Value)
16lbs (7.25kg)
Angular Vibration Range
± 0.02°
Maximum Controlled Rotation Speed
Pan axis: 90°/s
Tilt axis: 100°/s
Roll axis: 30°/s
Controlled Rotation Range
Pan axis control: 360°
Tilt axis control: +45° to -120°
Roll axis control: ± 25°
Mechanical Endpoint Range
Pan axis: 360°
Tilt axis: +110° /-170°
Roll axis: ± 110°
DJI RONIN M

GENERAL
Built-In Functions

Three Operation Modes
-Underslung Mode
-Upright Mode
-Briefcase Mode
Built-in, independent IMU module
DJI Specialized Gimbal Drive Motors with Encoders
Bluetooth Module
USB Connection
2.4GHz Receiver
Temperature Sensor
DJI Advanced 32-Bit DSP Processor
D-Bus Receiver Supported
MECHANICAL & ELECTRICAL CHARACTERISTICS
Working Current
Static current: 300mA (@16V)
Dynamic current: 600mA (@16V)
Locked motor current: Max 10A (@16V)
Run Time
3 hours
Operating Temperature
5° F ~ 120° F (-15° C ~ 50° C)
Weight
2.3kg (5.07lb) fully loaded with handlebar
Gimbal Dimensions
500mm(W) x 210mm(D)x 420mm(H)
PERIPHERAL
Camera Tray Dimensions
Maximum depth at center of mass on camera base plate: 120mm
Maximum height measured from top of camera base plate: 195mm
Maximum width: 160mm
Accessory Power Connections
12V Regulated P-Tap x 2, USB 500mW x 1, DJI Lightbridge x 1
GCU Input Power
4S Ronin-M Battery
Connections
2.4GHz Remote Controller, Bluetooth 4.0, USB 2.0
PC Assistant Software Requirements
Windows XP SP3; Windows 7; Windows 8 (32 or 64 bit);Mac OS X 10.9 or above
Mobile Assistant Software Requirements
Mobile Device: iOS 6.1 or above, Android 4.3 or above
WORKING PERFORMANCE
Load Weight (Reference Value)
8lb (3.6kg)
Angular Vibration Range
± 0.02°
Maximum Controlled Rotation Speed
Pan axis: 90°/s
Tilt axis: 100°/s
Roll axis: 30°/s
Mechanical Endpoint Range
Pan axis: 360°
Tilt axis: +105° to -190°
Roll axis: ± 110°
Controlled Rotation Range
Pan axis control: 360°
Tilt axis control: +105° /-190°
Roll axis control: ± 25°
DJI RONIN MX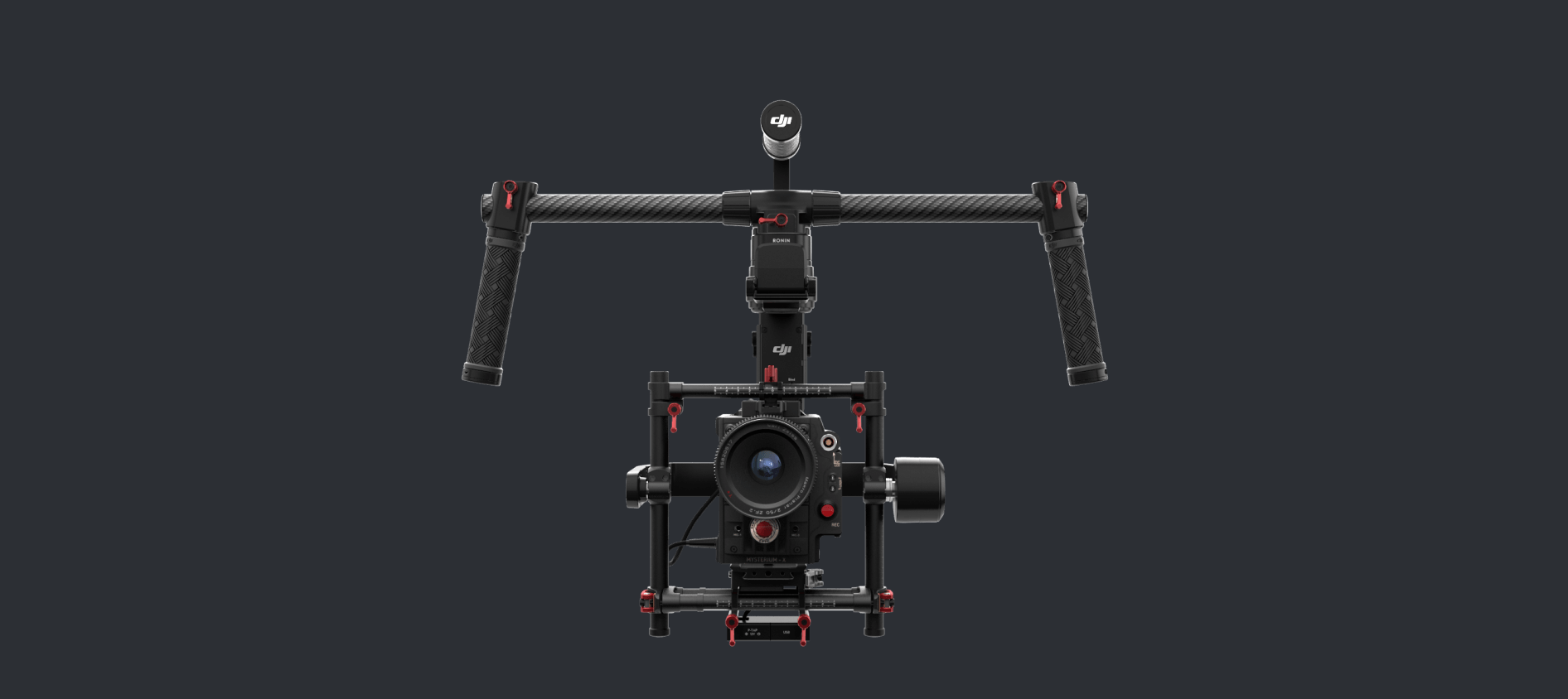 GENERAL
Built-In Functions

Operation Modes
-Underslung Mode
-Upright Mode
-Briefcase Mode
-Aerial Mode
-Jib or Wirecam Mode
Built-in, independent IMU module
DJI Specialized Gimbal Drive Motors with Encoders
Bluetooth Module
USB Connection
2.4GHz Receiver
Temperature Sensor
DJI Advanced 32-Bit DSP Processor
D-Bus Receiver Supported
MECHANICAL & ELECTRICAL CHARACTERISTICS
Working Current
Static current: 300mA (@16V)
Dynamic current: 600mA (@16V)
Locked motor current: Max 10A (@16V)
Run Time
3 hours
Operating Temperature
5° F ~ 120° F (-15° C ~ 50° C)
Weight
Including handle bar: 6.11 lb (2.77 kg)
Including vibration absorber: 4.74 lb (2.15 kg)
Gimbal Dimensions
Excluding handle bar :
280 mm (W) x 370 mm (D)x 340 mm (H)
Including handle bar :
560 mm (W) x 370 mm (D) x 440 mm (H)
PERIPHERAL
Camera Tray Dimensions
Maximum depth from the center of gravity on camera base plate: 120mm
Maximum height measured from top of camera base plate: 130mm
Maximum width: 160mm
Accessory Power Connections
12V Regulated P-Tap x 2, USB 500mW x 1, DJI Lightbridge x 1
GCU Input Power
4S Ronin-M Battery
Connections
2.4GHz Remote Controller, Bluetooth 4.0, USB 2.0
PC Assistant Software Requirements
Windows XP or above; Mac OS X 10.9 or above
Mobile Assistant Software Requirements
iOS 7.1 or above; Android 4.3 or above
WORKING PERFORMANCE
Load Weight (Reference Value)
10 lb (4.5 kg)
Angular Vibration Range
± 0.02°
Maximum Controlled Rotation Speed
Pan axis: 200°/s
Tilt axis: 100°/s
Roll axis: 30°/s
Mechanical Endpoint Range
Pan axis control: 360°
Tilt axis control: +270° to -150°
Roll axis control: ± 110°
Controlled Rotation Range
Pan axis control: 360°
Tilt axis control: +45° to -135°
Roll axis control: ± 25°
DJI RONIN 2

GENERAL
Built-In Functions
Operation Modes
-Underslung Mode
-Upright Mode
-Briefcase Mode
-Handheld, Car Mount, Aerial, Tripod, & Steadicam Mode
Built-in, independent IMU module
DJI Advanced 32-Bit ARM Processor
DJI Specialized Gimbal Drive Motors with Encoders
Dual Battery System
Bluetooth Module
D-Bus Receiver Supported
2.4 GHz/5.8 GHz Receiver
Temperature Sensors
Built-in Touch Panel
Built-in GPS
USB Type-C Connection
Power and Video Signal through Slip Ring
MECHANICAL & ELECTRICAL CHARACTERISTICS
Working Current
Static current: 300 mA (@22.8 V)
Dynamic current: 500 mA (@22.8 V)
Locked motor current: Max 15 A (@22.8 V)
Run Time
8 hours
2.5 hours (when powering gimbal, camera and accessories at the same time)
Operating Temperature
-4°F ~ 122°F (-20°C ~ 50°C)
Weight
Including handle bar: 12 lb (5.5 kg)
Excluding handle bar: 9 lb (4.2 kg)
Gimbal Dimensions
Excluding handle bar: 350 mm (W) x 416 mm (D) x 530 mm (H)
Including handle bar: 630 mm (W) x 416 mm (D) x 720 mm (H)
PERIPHERAL
Camera Tray Dimensions
Maximum depth from the center of gravity on camera base plate: 245 mm
Maximum height measured from top of the camera base plate: 165 mm
Maximum width: 180 mm
Accessory Power Connections
14.4 V x 4 Camera Cage (Combined 8 A), 12.6 V x 2 Pan Motor (Combined 4 A), 12.6 V x1 P-Tap (8 A)
GCU Input Power
Intelligent Battery: 4280 mAh-22.8 V
Connections
2.4 GHz/5.8 GHz Remote Control, Bluetooth 4.0, USB Type-C
PC Assistant Software Requirements
Windows 7 or above; Mac OS X 10.11 or above
Mobile Assistant Software Requirements
iOS 9 or above; Android 4.4 or above
WORKING PERFORMANCE
Load Weight (Reference Value)
30 lbs (13.6 kg)
Angular Vibration Range
± 0.02°
Maximum Controlled Rotation Speed
Pan axis: 400°/s
Tilt axis: 360°/s
Roll axis: 360°/s
Mechanical Endpoint Range
Pan axis control: 360° continuous rotation
Tilt axis control: ±135°
Roll axis control: ±220°
Controlled Rotation Range
Pan axis control: 360° continuous rotation
Tilt axis control: +45° to -135°
Roll axis control: ±45°
---
---
Nah, lumayan panjangkan artikel diatas, jika tifoser kurang puas tifoser bisa menyoba dengan Sewa Glidecam, Sewa DJI Ronin atau Sewa Beholder DS1 di Titikfokus kamera
Titikfokus Palagan / Monjali
5B98FC55 | 0853 7804 5509 | [email protected] Click
Jalan Karya Utama Dusun Sedan 06/34, sariharjo ngaglik sleman 5551 yogyakarta
( google map : titikfokus kamera jogja )
TITIK FOKUS JOGJA TAMANSISWA
5ACC59CB | 085643218801
( google map : titikfokus kamera taman siswa )
TITIKFOKUS KAMERA MAGELANG
085865400611 | D0B3F679
Alamat : Jalan Mahameru No 20 RT 01 RW 12, Perum Pondok Rejo Asri 2, Danurejo, Mertoyudan, Magelang
Alamat : Trimurti no 42 RT/RW 01/12, Sokanegara, Purwokerto
3146CB3A | 0896 6555 6611
( Google map : Titikfokus Kamera Purwokerto )
2B5CB827 | 0857 2888 2281
Alamat : Jl. untung Suropati Utara, Men Armed 1 Blok C16 Malang, kec Blimbing, kel Kesatrian 65121
( Google map : Titikfokus Kamera Malang )
5E667D11 | 0852 9025 9016
Alamat : Gajahan RT 04/ RW 01 Jalan Padmanegara No. 5 Surakarta
( Google map : Titikfokus Kamera Solo )
5A450789 | 082137329396
Alamat : Jl Puspowarno Tengah 8 No 23 Semarang Barat
( Google map : Titikfokus Kamera Semarang )
Alamat : Perum Ketintang Regency I
Jl. Ketintang Madya Kencana No.16 Surabaya
5cec910e | 08562186635
Alamat : Jalan Cihaur No.20 RT 002/RW008
Kalurahan Dago Kecamatan Coblong 40135 Bandung
kamera mirrorless a6000 | kamera mirrorless termurah | kamera mirrorless terbaik | kamera mirrorless canon | kamera mirrorless canon eos m3 | kamera mirrorless canon eos m | kamera mirrorless canon eos m10 | kamera mirrorless canon vs fujifilm | kamera mirrorless canon terbaik | kamera mirrorless buat pemula | kamera mirrorless dan dslr | kamera mirrorless ekonomis | kamera mirrorless olympus epl3 | kamera mirrorless canon eos | kamera mirrorless dengan gps | kamera mirrorless fujifilm | kamera mirrorless fujifilm harga | kamera mirrorless fujifilm xa2 | kamera mirrorless fujifilm xt10 | kamera mirrorless fujifilm x-m1 | kamera mirrorless full frame termurah | kamera mirrorless fujifilm untuk pemula | harga kamera mirrorless | kamera mirrorless itu apa | kamera mirrorless jogja | kamera mirrorless kelebihan | kamera mirrorless keunggulan | kamera mirrorless murah | kamera mirrorless nikon | kamera mirrorless pemula | kamera mirrorless paling bagus | kamera mirrorless paling murah | kamera mirrorless panasonic | kamera mirrorless review | kamera mirrorless raditya dika | kamera mirrorless rekomendasi 2016 | kamera mirrorless retro | review kamera mirrorless canon | kamera mirrorless | kamera mirrorless sony | kamera mirrorless samsung | kamera mirrorless sony a6000 | kamera mirrorless sony a5100 | kamera mirrorless selfie | kamera mirrorless samsung nx | kamera mirrorless untuk video | kamera mirrorless untuk selfie | kamera mirrorless untuk vlog | kamera mirrorless xa2 | kamera mirrorless x-a2 harga | kamera mirrorless xm1 | kamera mirrorless x100s | harga kamera mirrorless x-a1 | kamera mirrorless fuji x20 | camera mirrorless fujifilm x20 | kamera mirrorless fuji xa1 | kamera mirrorless fujifilm x30 | review kamera mirrorless fujifilm xm1 | kamera mirrorless zoom terbaik | mirrorless camera zoom | sewa mirrorless bali | sewa mirrorless bandung | sewa kamera mirrorless bandung | sewa mirrorless jogja | sewa mirrorless jakarta | sewa mirrorless jakarta murah | sewa kamera mirrorless jakarta | sewa kamera mirrorless jogja | sewa mirrorless malang | sewa kamera mirrorless | sewa kamera mirrorless surabaya | sewa mirrorless surabaya | sewa mirrorless semarang