Hay Tifoser.
Kali ini kita bakal review salah satu alat yang cukup berguna buat para tifoser yang bergelut di bidang videografi. Alat ini salah satu stabilizer yang cukup terkenal di kalangan videografer jogja maupun indonesia.
Stabilizer ini bertype hand heel elektrik karena memiliki 3 axis gimbal, 3 axis gimbal ini akan menjamin kestabilan hasil pengambilan gambar tifoser, salah satu produk dari produsen bernama IKAN Corp. ini memiliki Banyak seri. oh iya kami lupa menyebut kan nama produk tersebut 🙂 Beholder 3 Axis Camera Stabilizer, yups produk itu memiliki nama panjang Beholder 3 Axis Camera Stabilizer atau sering di sebut Beholder 🙂 . Ngomong-ngomon tentang seri, kali ini kami hanya fokus membahas spesifikasi pada salah satu seri beholder, yaitu IKAN Beholder DS-1 3 Axis Camera Stabilizer. untuk produk lainya tifoser bisa cek di website resmi IKAN Corp.
Berikut ini adalah spesifikasi dari IKAN Beholder DS-1 3 Axis Camera Stabilizer.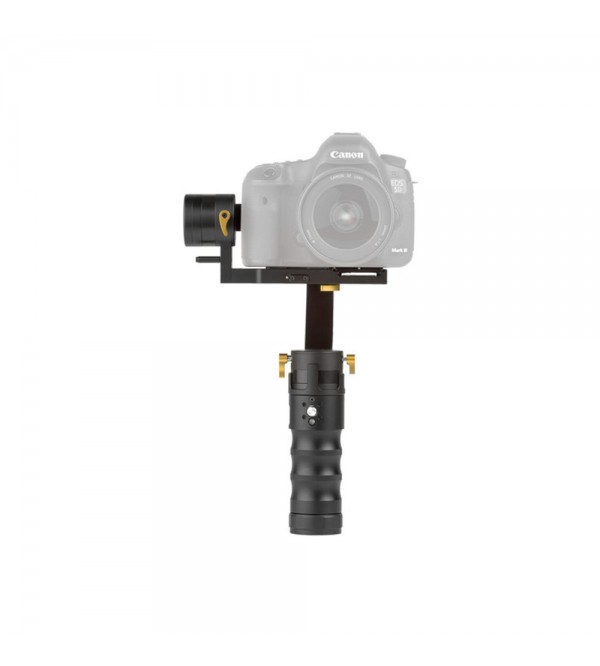 PRODUCT HIGHLIGHTS
3-Axis Motorized Gimbal
Supports DSLRs Up to 3.7 Pounds
Quick Release Baseplate
Tool-Less Balance Adjustments
Two Stabilizing Modes
Motorized Pan and Tilt Adjustment
Use Normal, Inverted, or Briefcase
Integrated USB Port for Power
3/8″-16 Threaded Mounting Hole
Lightweight for its size yet designed to support DSLR cameras, the Ikan DS1 Beholder Gimbal for Select DSLR and Mirrorless Cameras is a 3-axis gyro stabilizer with brushless motors. It supports cameras such as Sony A7, GH4, G7 Series, Canon 5D, 6D, 7D, GX7, NEX Series, and DMC Series cameras. It features a quick release baseplate that makes it simple and easy to swap out the camera. Additionally, the baseplate can be adjusted, without tools, for precise balance. This can be especially useful when changing lenses.
The DS1 features four selectable stabilizing modes: follow, lock, inverted, and briefcase. Beyond just stabilizing, the DS1 allows you to adjust pan and tilt via a small joystick incorporated into the handgrip. It incorporates a USB port, which you can use to power a smal LED light, or charge your smartphone. The handle houses the three 2600mAh batteries, which can typically power the DS1 for approximately 2 to 3 hours.
For smooth camera moves with most mirrorless and DSLR cameras.
Equipped with 3-axis gyro-stabilized brushless motors to stabilize most mirrorless and DSLR cameras up to 3.7 pounds.
The quick release plate acts as a sliding balance plate and allows you to quickly adjust the rig when you change lenses on the camera.
Each axis features two adjustment locking levers that allow you to pre-adjust the position or balance your camera on the gimbal before turning it on.
Modes
Follow Mode stabilizes the camera and allows it to follow your movements as you pan and tilt.
Lock Mode stabilizes the camera and holds in position even if you pan, tilt, or try to dutch-angle (off level the camera), until you reach the physical limit of the motor.
You can hold and use the DS1 in normal, inverted, or briefcase mode. This allow you to get a wide variety of shots in a many different situations using one stabilizer.
Illuminated on/off switch and battery indicator.
3/8″-16 tripod mount socket.
AC Adapter with integrated Micro USB cable for charging.
Itulah beberapa review spesifikasi dariIKAN Beholder DS-1 3 Axis Camera Stabilizer. Buat Tifoser yang ingin membeli atau sekedar ingin merasakan menggunakanIKAN Beholder DS-1 3 Axis Camera Stabilizer. tersebut , bisa sewa BeHolder DS1 di Titikfokus Kamera.
Titikfokus Palagan / Monjali
5B98FC55 | 0853 7804 5509 | [email protected] Click
Jalan Karya Utama Dusun Sedan 06/34, sariharjo ngaglik sleman 5551 yogyakarta
( google map : titikfokus kamera jogja )
TITIK FOKUS JOGJA TAMANSISWA
5ACC59CB | 085643218801
( google map : titikfokus kamera taman siswa )
TITIKFOKUS KAMERA MAGELANG
085865400611 | D0B3F679
Alamat : Jalan Mahameru No 20 RT 01 RW 12, Perum Pondok Rejo Asri 2, Danurejo, Mertoyudan, Magelang
Alamat : Trimurti no 42 RT/RW 01/12, Sokanegara, Purwokerto
3146CB3A | 0896 6555 6611
( Google map : Titikfokus Kamera Purwokerto )
2B5CB827 | 0857 2888 2281
Alamat : Jl. untung Suropati Utara, Men Armed 1 Blok C16 Malang, kec Blimbing, kel Kesatrian 65121
( Google map : Titikfokus Kamera Malang )
5E667D11 | 0852 9025 9016
Alamat : Gajahan RT 04/ RW 01 Jalan Padmanegara No. 5 Surakarta
( Google map : Titikfokus Kamera Solo )
5A450789 | 082137329396
Alamat : Jl Puspowarno Tengah 8 No 23 Semarang Barat
( Google map : Titikfokus Kamera Semarang )
Alamat : Perum Ketintang Regency I
Jl. Ketintang Madya Kencana No.16 Surabaya
5cec910e | 08562186635
Alamat : Jalan Cihaur No.20 RT 002/RW008
Kalurahan Dago Kecamatan Coblong 40135 Bandung
kamera mirrorless a6000 | kamera mirrorless termurah | kamera mirrorless terbaik | kamera mirrorless canon | kamera mirrorless canon eos m3 | kamera mirrorless canon eos m | kamera mirrorless canon eos m10 | kamera mirrorless canon vs fujifilm | kamera mirrorless canon terbaik | kamera mirrorless buat pemula | kamera mirrorless dan dslr | kamera mirrorless ekonomis | kamera mirrorless olympus epl3 | kamera mirrorless canon eos | kamera mirrorless dengan gps | kamera mirrorless fujifilm | kamera mirrorless fujifilm harga | kamera mirrorless fujifilm xa2 | kamera mirrorless fujifilm xt10 | kamera mirrorless fujifilm x-m1 | kamera mirrorless full frame termurah | kamera mirrorless fujifilm untuk pemula | harga kamera mirrorless | kamera mirrorless itu apa | kamera mirrorless jogja | kamera mirrorless kelebihan | kamera mirrorless keunggulan | kamera mirrorless murah | kamera mirrorless nikon | kamera mirrorless pemula | kamera mirrorless paling bagus | kamera mirrorless paling murah | kamera mirrorless panasonic | kamera mirrorless review | kamera mirrorless raditya dika | kamera mirrorless rekomendasi 2016 | kamera mirrorless retro | review kamera mirrorless canon | kamera mirrorless | kamera mirrorless sony | kamera mirrorless samsung | kamera mirrorless sony a6000 | kamera mirrorless sony a5100 | kamera mirrorless selfie | kamera mirrorless samsung nx | kamera mirrorless untuk video | kamera mirrorless untuk selfie | kamera mirrorless untuk vlog | kamera mirrorless xa2 | kamera mirrorless x-a2 harga | kamera mirrorless xm1 | kamera mirrorless x100s | harga kamera mirrorless x-a1 | kamera mirrorless fuji x20 | camera mirrorless fujifilm x20 | kamera mirrorless fuji xa1 | kamera mirrorless fujifilm x30 | review kamera mirrorless fujifilm xm1 | kamera mirrorless zoom terbaik | mirrorless camera zoom | sewa mirrorless bali | sewa mirrorless bandung | sewa kamera mirrorless bandung | sewa mirrorless jogja | sewa mirrorless jakarta | sewa mirrorless jakarta murah | sewa kamera mirrorless jakarta | sewa kamera mirrorless jogja | sewa mirrorless malang | sewa kamera mirrorless | sewa kamera mirrorless surabaya | sewa mirrorless surabaya | sewa mirrorless semarang